Our knowledgeable staff wants to help YOU become a successful gardener! Three generations of gardening experience await your questions at Sabo's Garden Center.
Jim and Donna Sabo at Passport 2 Plants 2012 ~ Brian, Becky, Caroline, Barb, and Fae Sabo 2023
Brian Sabo grew up in the industry and handles all the day to day business, from floor sweeper, to driver, to CEO. Brian prides himself on efficiency and quality in all aspects of business. He has served as officer and board member for the Nursery Growers of Lake County Ohio and the Helping Hands Truck Club. He takes a proactive approach to the health of the green industry.
Making use of his diverse skills, Brian launched a new business venture in 2011 – Haul Your Horses LLC. What began as an off-season venture has grown into a full-fledged business reliably transporting show, competition and private horses. He has been working with horses since 1986, as working as driver and a groom.
Jim Sabo has been in the horticulture field for more than 80 years, much of that time spent as a nationally recognized rhododendron hybridizer and grower. Jim, now retired, still offers valuable advice and was awarded the NGLCO Emeritus honor in 2019. He is also a charter member of the International Propagators' Association and has a passion for growing succulents.
Donna Sabo (1933 – 2020) A heartfelt and loving farewell to the matriarch of Sabo's Woodside Nursery, Donna Mae Aikens Sabo. She always had a story to share to customers and employees. She was co-founder, secretary, treasurer and all-around referee to all and is sorely missed.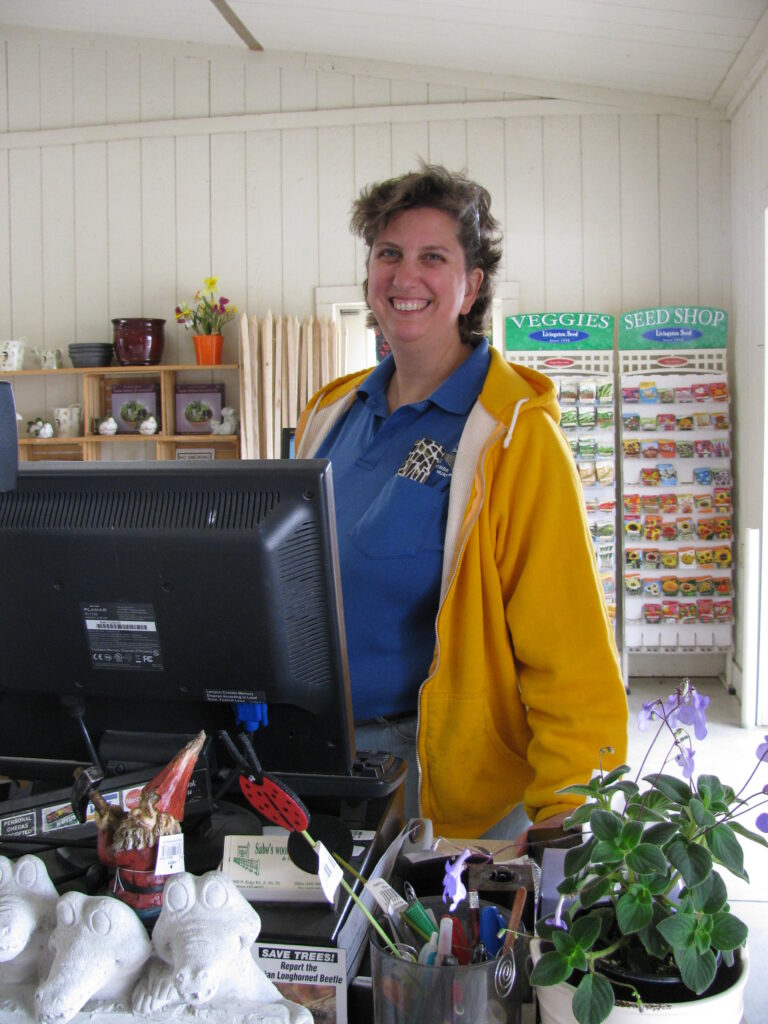 Barb Sabo joined the team in 1994 focusing on sales, advertising and bookkeeping. She stepped away for a decade to raise their two daughters, and gradually returned to retail, along with the girls to help as needed. Following the retirement of wholesale and office manager Nancy Brockway in January of 2020, Barb has stepped in as Brian's right hand in production, wholesale and accounting. She is also a registered massage therapist and shares this skill with Sabo customer's during special events.
Cathee and Carol also present programs for Garden Clubs and Youth Groups.
Cathee Thomas left the Holden Arboretum in 2003 to manage our garden center, she oversees the perennial production and nursery stock inventory, bringing with her decades of experience collecting and growing rare and unusual plants. She is an artist, writer, and instructor. She leads our crew in designing hanging baskets, window boxes, patio pots and more. Her favorite plant collections include Hellebore, Clematis and spring bulbs, but her favorite flower changes with the seasons.
Cathee is the radio voice of Sabo's. Listen for her Garden Chats on WKKY 104.7 FM on Tuesday and Thursday afternoons and on Mix 97.1 FM Friday mornings
Carol Bellina is an avid gardener specializing native plants and wetlands environments, a passion that she also also pursues in her home gardens.
Her decades of experience as a naturalist for Geneva State Park, Lake Metroparks and Cleveland Metroparks has provided her with a wealth of hands-on opportunities to learn and understand our local flora and fauna.
She was a 4-H Camp Activities leader and Lake County Environmental Improvement Award recipient